Did you know that what you eat can significantly affect your sexual well-being? According to the sexologists at Dr Gupta's Clinic, a nutritious diet can improve stamina, increase blood flow, and boost libido. In this blog post, we'll explore the foods packed with nutrients essential for good health and better sex.
Lean Proteins And Fresh Vegetables: Key Components Of A Nutritious Diet
A diet of lean proteins and fresh vegetables can help prevent hormonal disorders and metabolic syndrome. These foods are also necessary for good health and better sex. In addition, make sure to incorporate foods with low saturated fat and sugar levels into your diet.
Zinc-Rich Foods: Oysters, Baked Beans, And More
Oysters are a great source of zinc, an essential nutrient that helps regulate testosterone levels and enhance blood flow to your sex organs. Other zinc-rich foods include baked beans, pumpkin seeds, beef, pork, crabs, lobsters, and molluscs.
High-Protein Meats: Pork, Chicken, And Beef
Meats are rich in certain amino acids like L-arginine and carnitine can help boost your sex life. These compounds improve blood flow, necessary for a healthy sexual response cycle.
Nuts And Seeds: Healthy Snacking Options For Improved Blood Flow
Healthy nuts and seeds are great snacks that help satisfy your food cravings while improving blood flow. Almonds, cashews, sunflower seeds, pumpkin seeds, hazelnuts, pecans, walnuts, and peanuts are all rich in zinc and L-arginine.
Quercetin-Rich Fruits: Apples, Berries, And Citrus Fruits
Fruits rich in quercetin, like apples, dark-coloured grapes, cherries, strawberries, blueberries, and citrus fruits, offer various health benefits, including improved circulation, relief for erectile dysfunction, and lessened signs and symptoms of prostatitis.
Antioxidant-Rich Beets: Boosting Blood Flow And Muscle Contraction
Beetroots are packed with vitamins and antioxidants, making them a healthy addition to any diet. In addition, their high levels of dietary nitrates are beneficial for improving blood flow and muscle contraction, which can boost your sex life.
When Diet Alone Isn't Enough: Consult The Experienced Sexologists At Dr. Gupta's Clinic
While these nutritious foods can help improve your sex life, they may not be enough to address impotence, lack of desire, or pain during intercourse. If you're experiencing any of these issues, it's essential to consult with experienced sexologists at Dr Gupta's Clinic. Our team is skilled at treating male and female sexual disorders with years of experience.
For more information, please visit the website.
Website: https://www.drguptas.com/

You can also contact us through mail on: drguptasclinic@gmail.com

Or can also call us on: +91 9831834215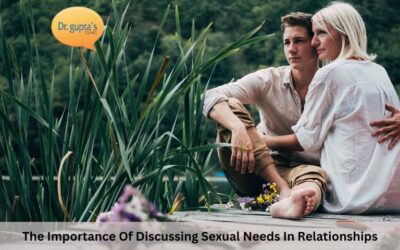 Sex is a universal aspect of human life, but it's often considered taboo or challenging to discuss. According to Dr Gupta, a sexologist in Kolkata, this absence of conversation can lead to mental and physical dissatisfaction. The Lack of Conversations About Sex Many...